I am falling in love with a country I have never been to.
It has...
*32 million people
(49% of the total population is under age 15!)
*2.5 million orphans
(almost 50% due to AIDS!)
Two of my kids are currently living there. But I don't know where exactly.
This country looks so beautiful and intriguing. Of course, I could be a little biased.
This is where Uganda is located in Africa.
It seems to me God has his hand on this country.
It is one of the only places where the AIDS/HIV rate has gone down because of education. Isn't that awesome?
My pastor and his wife go over there twice a year to teach the church leaders John Maxwell's stuff. There are counseling programs for former child soldiers, feeding programs, school sponsorship and water programs.
So many organizations are working among the
underprivileged in Uganda, including World Vision, charity:water and Kiva.
None of that has anything to do with adoption, I'm just so happy that things are looking up for the Ugandans. We sponsor two girls and had some of the Mwangaza Children's Choir stay here. We just wanted to keep those boys!
They were very hungry after their program!
Back to Adoption...
Uganda is now adopting to the US. There is no limit to children already in the home and the parents only need to be 21 years older than their adopted children. Yea!
We have not been matched yet. These are not pictures of our kids.
But they are so stinkin' cute I look at them a lot!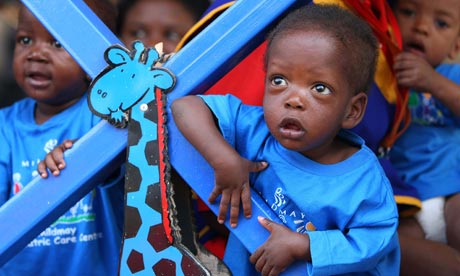 Aren't they just the cutest things ever?
Those cheeks are just begging for some kisses.
And Uganda is also home to one of my heros, Katie Davis. Read her blog here.
(Katie is going to be at the Catalyst Conference in Oct if any of you are lucky enough to be going. Don't rub it in tho.)
So...we keep waiting. I really hate waiting. Especially when it's waiting to find out if my babies are girls or boys or 5 months or 2 1/2 or what!
But I'm trying to be patient.
God help me!